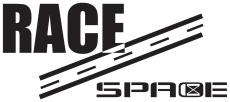 Price & Quality – If you are looking for a simple marketing tool which fits a tight budget, then Race offer the ideal solution, the best quality at the lowest price.
All-in-One Feature – Race's compact and lightweight aluminium casing has two twist out feet for added stability and a slot on the rear to store the poles. These features ensure quick and easy assembly in seconds.
Detailed Design – Unlike most budget roller banners, Race's supporting pole connects to the top graphic profile with a smooth L-shaped plastic cap. This design helps eliminate any potential damage to the graphic.