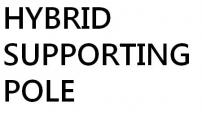 Innovative Design - Our Hybrid Pole is a traditional 2 Parted Pole with a Telescopic Extension. This will allow an easy set up and at the same time provide a great flexibility for your display.
Flexible - With our Hybrid Pole, you will have the minimum height as 1600mm and can be extended to a full size of 2150mm.
Stability Enhancement - The end of Space's Hybrid Pole is weighted with Solid Cast Metal, which gives the weight to gives your display an extra stability.